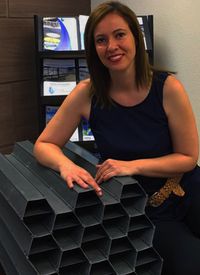 TecnoConverting Engineering is a leading company in the water treatment industry that specializes in clarification and inclined plate settlers. They engineer, design and assemble the best custom-made technical solutions for their customers.
One of 2017 major milestones for TecnoConverting is their participation as an exhibitor at WEFTEC, the world's most important water fair that will take place in Chicago, October 2nd-4th, and where the company will introduce its complete range of products.
The following interview with CEO Lidia Piqué reveals the main reasons for their betting on WEFTEC 2017 as well as the solutions that will be available at TecnoConverting's stand.
Lidia, what are the reasons behind your decision to take your water treatment products to one of the world's major fairs?
TecnoConverting Engineering has already participated in many of the sector's fairs in Europe, such as AQUATECH in the Netherlands, POLLUTEC in France, PORTO WATER INNOVATION WEEK in Portugal and IFAT in Germany. It was therefore clear for us that if we wanted to continue growing internationally, we had to bet on the North American and Latin American markets, and take our products and solutions to a fair like WEFTEC, definitely one of the world's most important events in the water industry.
If we visit your STAND at WEFTEC in Chicago, what products and solutions will we find?
As you know, TecnoConverting specializes in clarification and lamella clarifiers; at the fair you will find our whole range of products, i.e. Manowar bridgeless scrapers, traditional Tecno-Classic central-axle scrapers as well as our TecnoTec lamellar modules, of course.
We also offer a slightly less known service: we engineer clarification projects. From our R&D technical department, we help public entities, construction and engineering companies, etc. from different countries with the design of different projects.
At WEFTEC we will also hold the world premiere Virtual Reality presentation of how our equipment works.
What would you say TecnoConverting products and equipment can bring to a market as demanding as the North American one?
Definitely our know-how. We have been working all over the European continent for many years and know, therefore, exactly how to work in different countries.
Our company is very well regarded on these markets, especially for the technical assistance in engineering that we offer our clients.
Importantly, TecnoConverting Engineering has worked for years on one of the most demanding markets in terms of water engineering, that is Germany. Exporting all that knowledge to the American markets grants us a major added value that differentiates us from our competitors.
Regarding the Central and South American markets –home to many of the Chicago fair visitors—, what would your assessment be?
Our company is already working on these markets: Mexico, Dominican Republic, Venezuela, Nicaragua, Panama, Uruguay… Our intention is to get closer to our customers so they can know us better and find out all the technology that TecnoConverting Engineering has developed for the water treatment sector.
And finally Lidia, what perspectives in terms of visits, contacts, sales, projects, etc., do you expect from WEFTEC 2017?
It will be a great meeting point with our clients, most of them have confirmed the visit. The simple fact of seeing them and being with them will already be worthy.
Thank you very much.