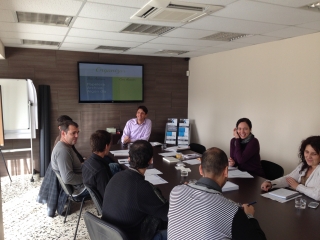 Jeroen Sangers gives GTD training seminar for TecnoConverting employees
posted in News by TecnoConverting
Jeroen Sangers, a national leader in consulting and personal productivity training, has been in TecnoConverting facilities, giving a productivity seminar based on Getting Things Done (GTD), a method of management actions and projects developed by David Allen and described in the book with the same name. The GTD is a workflow in five steps to capture, organize and review your commitments, supplemented with a model for planning projects and guidelines for developing the vision and long term goals.
The GTD system allows managing several projects at once, increasing the quality of them in less time, decreasing stress. Also significantly improves the efficiency of all types of common shares in the work and personal life: email, notes, meetings, letters, social networks, ideas, tasks, distractions, projects, interruptions, reference material, etc.
The GTD method has been developed based on the experience of over thirty years of consulting, coaching and training to millions of people worldwide. Organizations that use Getting Things Done include NASA, Adidas, Nestle, Harvard University, USA Social Security Administrations, American Red Cross and McDonald's.
TecnoConverting commitment for the best possible training to increase competitiveness against other sector companies, human capital is the most important tool for TecnoConverting, so that training is a key resource to continue offering new technologies in water treatment.