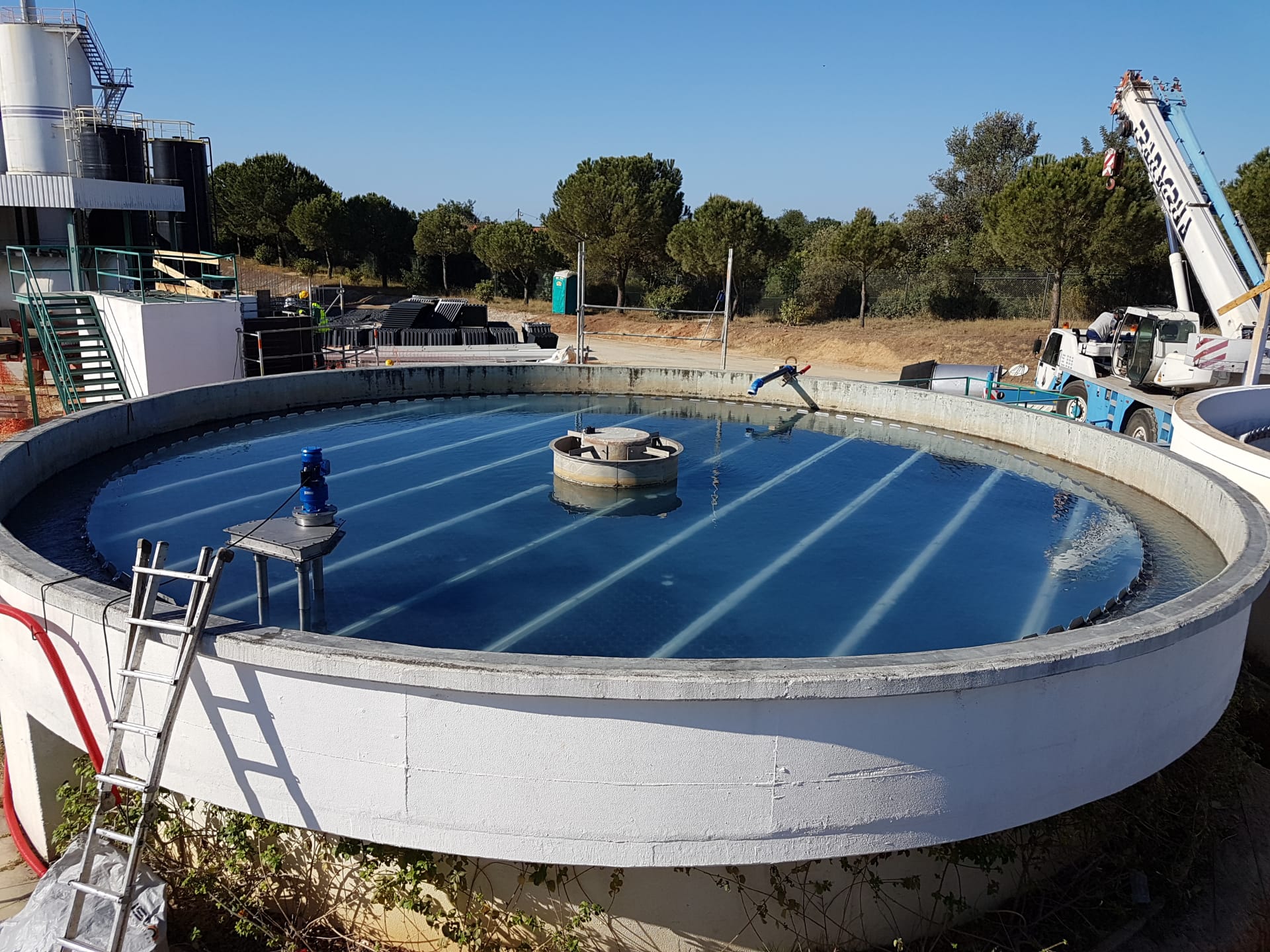 TecnoConverting installs two (2) Manowar® MARK II with Lamella in Portugal
posted in News by TecnoConverting
TecnoConverting Engineering finished two lamella settlers with the new MANOWAR® MARK II scrapers for a WWTP in Portugal. The client needed to increase the treatment flow and asked TecnoConverting Engineering to perform the engineering calculation to find out how much more flow could be treated, as the client's need was to reach 297 m³/h. Once the calculation were made by the Engineering Department at TecnoConverting, the results showed that utilizing the TecnoTec H80 lamella modules, the treatment capacity could be incremented to 1.025 m³/h, almost four times the flow needed by the client.
Once the decision has been made to install lamella modules in a settling tank, it´s mandatory to check if the existing bottom scraper has the capacity to extract the increased total sludge production. It must be taken into consideration once the TecnoTec H80 lamella Modules are installed, the tank will be treating almost four times more flow, and the sludge production will increase at the same rhythm. It also need to be considered that with the use of lamella modules conventional bridge scrapers cannot be used. Here is where the MANOWAR® bottom scraper provides the perfect solution, as being a bridgeless scraper; it performs at the settler's bottom and below the lamella modules. The chosen models for this installation were the MANOWAR® MARK II.
The new MARK II is the natural evolution of the mythical Bridgeless MANOWAR®. This enhanced version has been developed to comply with the EASY-INSTALL system, which facilitates the installation process, and also allowing that in one single 40' container we can fit up to four (4) 40 m diameter MANOWAR® scraper system.
All MANOWAR ® Scraper are fabricated in Stainless-Steel, which secures a corrosion free environment and have been designed to incorporate lamella modules and include a complete cover of the settler, where the presence of sulfhydryl acid will not become a threat to the scraper.
The MANOWAR® Technology has been in operation and performing superbly since 2010; it is active in several countries such as Australia, Germany, Portugal, Russia and Spain.