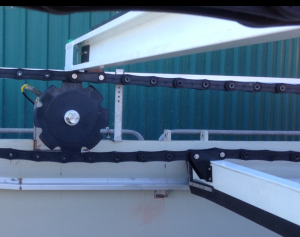 TecnoConverting supplies and supervises the assembly of a new DAF scraper for the industrial sector
posted in News by TecnoConverting
TecnoConverting has dimensioned, supplied and supervised the construction of a new DAF scraper of the prestigious Finnish brand DEWA for an important Spanish milk industry.
This supplied scraper, 7,50 meter long and 3,80 meter wide, is mainly made of high quality plastic materials and it is totally certificated for its use into potable water.
The project objective was eliminating the big quantity of fat generated during the production of milk and its derivatives, which is very difficult to unemulsify and that represents an inconvenience while pouring the water stemming from the production and washing process.
At these kinds of industries it is usual to install ventilated tanks in order to help unemulsion of the fat so that it remains on the surface in the form of floating foam. This fat is eliminated from the pool surface with the scraper´s flights system and it is led to the skimmer to avoid disturbing the subsequent biological pouring treatment.
DEWA´s scrapers are well known for being high quality and durable equipments, and allow a perfect adaptation to any basin by minimizing any dead zones, which guarantees the best performance of the installation.
On top of that, DEWA´s scrapers are the only ones that provide a unique chain tension system avoiding the need to empty the tank, which glaringly minimizes maintenance tasks at the installation and prevent from the need of stopping the production process when this kind of maintenance is required.
TecnoConverting is for over a year now the only authorized representative for DEWA´s scrapers in Spain and Portugal and the experience won with these products has always been the best. DEWA´s scrapers, with high quality and very competitive prices, provide the best performance ever seen in rectangular flights scrapers for the elimination of sludge and foam in your installation.