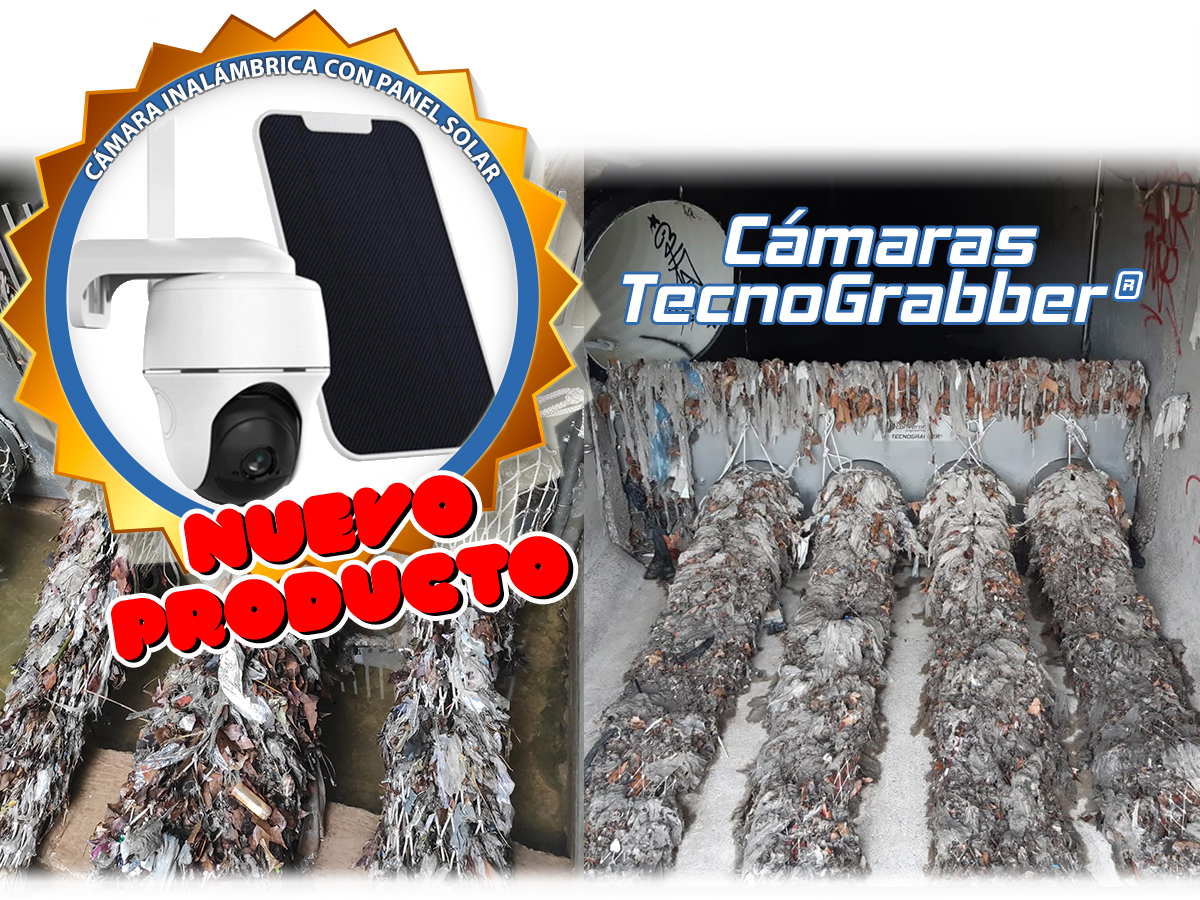 CHECK THE CONDITION OF YOUR SPILLS WITH THE NEW
Tecnograbber® video surveillance cameras
Control the filling of the meshes in real time during rain episodes from your electronic device.
Tecnoconverting Engineering presents the new TecnoGrabber® video surveillance camera models to control in real time the status of the meshes inside the collectors and spillways.
The new TecnoGrabber® video cameras are self-sufficient and wireless, they can be connected to a small solar panel or work with a rechargeable battery.
Avoid unnecessary commute to your confined or difficult to access spaces, checking the filling of the meshes in real time during rainy episodes from your electronic device.
One of the demands made by the different operators was how to control the state of the meshes to know when it is time to replace them. For this reason, from TecnoConverting Engineering we decided to offer a TecnoGrabber® Kit that included, apart from the TecnoGrabber® systems, a surveillance camera equipped with a solar panel, a 32 GB micro SD card and a wire extension for the panel.
One of the biggest problems encountered when TecnoGrabber® retention meshes are installed in spillways is that they are spaces that are difficult to access and, therefore, they are points that are difficult to control.
The new TecnoGrabber® video surveillance cameras will allow you to control, from a single application, different cameras installed in different spillways, without having to go to the place where the TecnoGrabber® system is installed. Remote control can be done from any electronic device.
If you wish, you can set the app to receive notifications on your device when motion is detected in the area. There is also the option to set up email notifications, informing you of movement in real time.
At the same time, when detecting any movement, you can configure the camera to record the area for a period of time (from 10 to 30 seconds), in order to view it later or document it.
Technical characteristics of the TecnoGrabber® video surveillance camera:
Solar powered battery (powered by solar energy or rechargeable battery).

Infrared night vision.

Resistant to water, high and low temperatures.

Full HD 1080P image quality, 2 megapixels.

Easy installation. Both the camera and the solar panel have a support to place them in the area that you want to control.

355° panoramic camera and 140° tilt. You can remotely move your camera in the desired direction at any time.

Motion detection. TecnoGrabber® video surveillance cameras are equipped with a motion sensor, being able to detect any presence inside their spillways.

Motion activated recording. Once it detects movement, the camera starts recording automatically, being able to configure the time you want to record (from 10 to 30 seconds). The recording can be viewed later from your electronic device.

Receive instant notification on your electronic device or by email in case of motion detection.

Possibility of activating sound alarm in the camera when detecting movement.

It has a microphone and speaker, to be able to communicate through the camera.

Cloud storage available.
What does the Tecnograbber® Kit include?
Video surveillance camera.

Camera support.

Camera antenna.

Solar panel with 4 meter cable incorporated.

Solar panel support

1 meter USB cable to charge the camera battery.

32 GB micro SD card (designed to be used in surveillance cameras).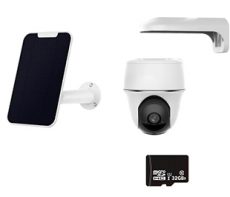 Optional gadgets:
4.5 meter black solar panel extension cable. It will be easier to place your solar panel in an appropriate location to maximize exposure to sunlight.

128 GB micro SD card for surveillance systems.
Does not include – SIM card with 4G data (Required)